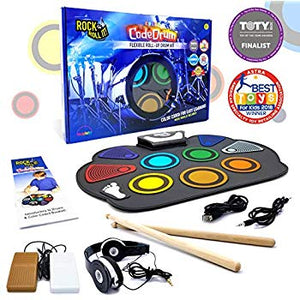 rock and roll it- code drum
Regular price
$70.00
$0.00
Rock out, then roll it up! Award winning, colorful, flexible, completely portable drum by MukikiM with 2 drum sticks + 2 pedals + Headphones + Play-by-color Music Book. 
All-in-1 kit includes everything you need to learn and start playing the drums using a rainbow of color! 
Features: 
♫Color Coded Drum Pad & Foot Pedals 
♫Easy to learn, play by color song booklet 
♫Multiple Drum Tones 
♫Professional Demo Songs 
♫Numerous Instrumental Tracks 
♫Record & Playback 
♫Audio In/Out w/auxiliary capabilities(headphones or external speaker required for use) 
♫Includes a set of headphones
♫Connects to MP3 players! 
♫Powered by USB (cord included!) OR batteries 
♫Completely portable - take it with you and play ANYWHERE! 
♫Power saving mode activates when not in use 
♫Realistic Sounds 
Specifications: 
♫Drum Size (open): 15" x 11" x 1"
 ♫Rolls up into a box sized: 16" x 12" x 3" 
♫Materials: Silicone, plastic 
♫Batteries: 2x AAA (not included) 
Package Includes: 
♫1-Drum 
♫1-48" USB power cord (wall adapter not included) 
♫2-Drum Sticks 
♫2-Foot Pedals (1 for bass drum + 1 for hi-hat) 
♫1-24" 3.5mm male-to-male audio adapter cable 
♫1-Headphones 
♫1-Play by color learning song book 
♫1-User Manual 
♫ Headphones or an external speaker are required to hear the drum 
♫Recommended for everyone ages 6+
---